Background
SHERPA Institute is a nonprofit (501c3) organization incorporated in the United States, with team members around the globe. Our founders are die-hard capitalists (albeit with a commitment to social responsibility), so our structure is uncharted territory. We were initially incorporated as a Colorado Benefit Company. While our first obligation was not to shareholders, the company still had "owners" who naturally expected some degree of profit.
So Why are We a Nonprofit?
From our inception, SHERPA Institute has had an audacious 1500-year vision to create A WORLD WE ALL WANT for future generations. Looking 25 generations into the future requires innovative thinking and a plan to be enduring.
A typical corporate structure faces the risk of being sold, acquired, merged, or simply going out of business. However, a corporation without owners is organically sustainable and regenerative. Continually renewing and training additional associates, contributors, and partners becomes the succession plan. We considered an ESOP; however, the company would have still had owners. A nonprofit corporation is ideal for our mission and our 1500 year planning.
SHERPA Institute's funding to date has been comprised of revenue generated by Sherpa Sustainability Institute, Founders' and Officers' investments, and the support of few, yet very generous benefactors. Multiple revenue streams include CISR Certifications, CISR Corporate deployments, virtual conferences, and training in, for example, CISR, ISO, and Leadership. While sustainable thus far, our budgetary needs for the 17 SDG Corporate Guidebooks are quickly outpacing current revenue streams. Profit from sales of the guidebooks themselves do not go to SHERPA; royalties earned will go to our Co-Authors.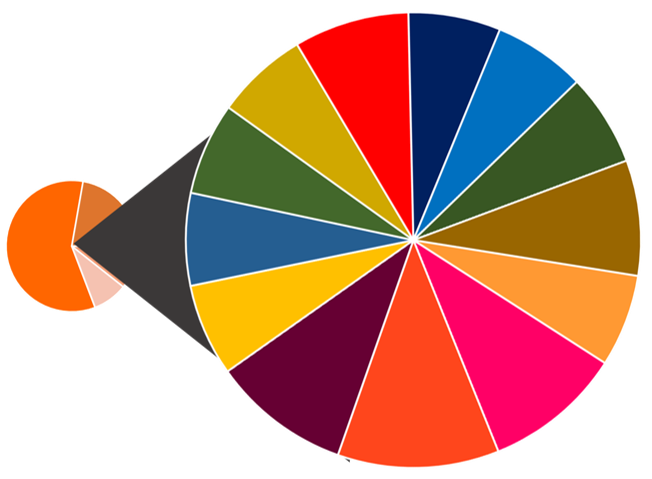 Growing Our Capacity
The fiscal requirements of maintaining and growing our global collaborative team of researchers, writers, reviewers, curriculum developers and interns are substantial. Professional services and IT platform investments are required to do our work, which to date have been unfunded. While necessary to initiate the project, this is not sustainable.
Additional funding for SHERPA Institute include sponsorships, donations, grants.
Collaboration with shared revenue from organizations with whom we have synergy is another revenue stream.
In kind services are also welcome.
We appreciate resources like AWS and Google products through TechSoup; and would like to thank Facebook for our nonprofit Workplace platform which continues to be the backbone of our production!
Types of SHERPA Supporters
Project Sponsors – Logo placement on UN SDG Main Page & all SDG Team Pages, recognition in ALL Corporate Guidebooks
SDG Sponsors – Logo placement on UN SDG Team Main Page & recognition in that specific Corporate Guidebook
Target Sponsors – Logo placement on specific Target Page & recognition in that specific Corporate Guidebook (example: SDG3.6 reduction in traffic mortality)
Grant Funding – For special projects, events and initiatives
Events Sponsors – Meetings, SHERPA Summit, etc.
Individual Donors – contribute to the Goals and Targets that you believe in most
Beyond the benefits listed, you get the satisfaction of helping to save the world
To learn more about our work, please download the attached Interface Case Study. (PDF download) and CONTACT US if you have more questions about becoming a SHERPA Supporter. We'd be happy to have a web meeting to discuss the opportunities listed above.
We will be sharing more content after our website launch for the 76th Convening of the United Nations. We invite you to learn more about our UN SDG Corporate Guidebook Series Meta Project! CLICK HERE TO LEARN MORE