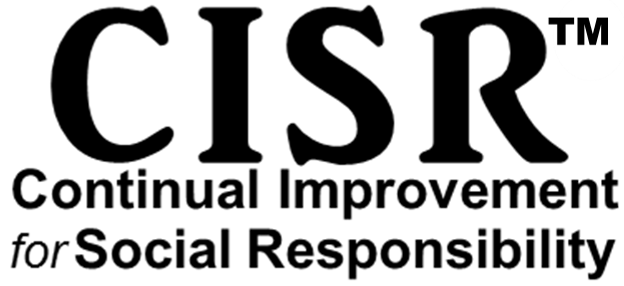 Thank you for your interest in Consulting from our most experienced CISR™ Experts and Champions!
More content coming after 76th Convening of the United Nations.
CISR is about more than just running continual improvement projects – it is about CULTURE CHANGE!
Typically, it takes a company years to deploy enough training to yield these desired results.
By engaging with SHERPA Institute for CISR Consulting, you can fast-track your efforts. You will gain clarity of direction and expedite your initiatives. We bring the expertise for holistic improvement and innovation efforts, or for specific focus areas, including:
Stakeholder Analysis and Engagement
UN SDG Strategy, Planning, Prioritizing and Reporting
ISO 26000 – Social Responsibility Materiality Analysis
Company Culture Frameworks – Core Values, Mission, Vision
Strategic Planning and Strategy Deployment
SWOT Analysis, Process Mapping, Value Stream Mapping, Etc.
Risk and Causal Analysis
TRIZ Innovation and Solution Selection
Project Pipeline Assessment and Prioritization
Deployment Assessments – Experiment vs Pilot
ESG-CSR-SDG Reporting (and other Alphabet Soup)
ESG-Focused Kaizen Events
Expertly Facilitated End-to-End SOFAIR Projects
Effective Long-Term Initiative (Multi-Project) Leadership
We are also available for critical, short term or ongoing fractional executive roles, requiring highly seasoned professionals, including:
CSO – Chief Sustainability Officer
CMO – Chief Marketing Officer, VP Communications
COO – Chief Operating Officer, VP Quality
CHRO – Chief Human Resource Officer
CLO – Chief Learning Officer
If you do decide to integrate CISR Certifications into your corporate training, you will be building capabilities in transparent communications, increasing accountability, unleashing innovation and galvanizing teams in ways you'd never imagined possible.
To learn more, download the attached Interface Case Study. (PDF download) and CONTACT US if you have more questions. We'd be happy to have a web meeting to discuss your organizations objectives.
We invite you to join our mailing list to keep in the loop on new website content and Consulting updates!
We will be sharing more content after our website launch for the 76th Convening of the United Nations. We invite you to learn more about our UN SDG Corporate Guidebook Series Meta Project! CLICK HERE TO LEARN MORE