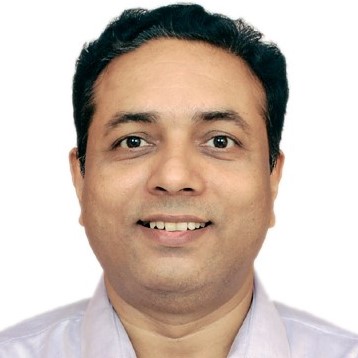 Ugra Mohan Jha
New Delhi, Delhi, India / India Standard Time
Why Join Our UN SDG Project?
This project has proven to be a great opportunity for me to learn and collaborate with a multi-cultural, global team of experts, from diverse sectors. When my senior and friend, Mr. Piyush Kumar (Team Co-Leader and Co-Author SDG12) contacted me for this opportunity, I confirmed immediately that I would join this project.

This has been an exciting journey and learning experience for me. While working in government, I continually provide information with respect to my country's progress on the SDGs and their targets. However, I couldn't believe that someday, I myself would directly work on an SDG!

I am a firm believer in a sincere and human approach by businesses for sustainable development. And I know that community participation and stakeholder consultation is a guiding principle for achieving success in the SDGs. In my professional career, I have been involved in several community participation and stakeholder consultation processes. I leverage my sustainability knowledge and experience to shape high quality resource materials for this UN SDG Guidebook Corporate Series, and provide subject matter expertise input on health statistics. This enables me to bring my day-to-day work to the global stage!

I am in full alignment with the team approach to advocate for partnerships across key stakeholders at all levels on policy formulation, implementation, and monitoring through SMARTIE KPIs and corporate social responsibility, guided by ISO 26000.  The international standard for social responsibility focuses companies on organizational governance and underlying social responsibility principles, including human rights, labor issues, fair operating practices, the environment, and community involvement.

The opportunity to continually to learn from my knowledgeable colleagues and esteemed global team members of this project is a priceless experience. Together, we are bringing together our expertise, and co-creating the resource material which will be guiding force for corporations around the globe on sustainable development and social impact in times to come!

Even before our books are published, we are making an impact, by sharing insights. I've had the opportunity to develop a series of articles focused on my area of passion: innovation, public health and Covid-19 pandemic. I hope you'll enjoy reading my articles and look forward to seeing your comments!
Biography
Dr. Ugra Mohan Jha is a Team Co-Leader and Co-Author for SDG3, as well as a Researcher for SDGs 1 and 2 with the SHERPA Institute UN SDG Corporate Guidebook Series.  He is a Senior Monitoring and Evaluation (M&E) and Research professional with over 16 years of professional experience in public health monitoring and research. Ugra is a Senior Statistician, Demographer and expert in Development, with high quality research and analytical skills and the ability to think outside the box.

He is currently working in the Ministry of Health & Family Welfare, Government of India as a Senior Consultant. While working in the ministry of health, he has extensively collaborated with global and UN organizations including WHO, UNICEF, UNAIDS, CDC, FHI, JSI and Population Council.  Early in the pandemic, Ugra was tapped to support India's COVID-19 National Nodal Officer with the data support team.  Dr. Jha also has published more than 11 research articles in national and international peer reviewed journals.

Dr. Jha is a passionate sustainability leader with deep research acumen. He has led several sustainability related initiatives while working in the Ministry; and Ugra introduced strategic thinking in the department in the use of information systems. Some of these include design and development of national MIS system with automation of recording and reporting system at National AIDS Control Programme (NACP) in India and at the Statistics Division of the Ministry. He was also involved in the National HIV Estimation & Projection and Modelling in India and worked alongside global HIV modelling experts. Ugra successfully organized the ISO 9001:2008 certification of NACP in India.

Ugra earned his Doctorate in Extension and Development Studies from Indira Gandhi National Open University (IGNOU), a Master of Population Studies from International Institute for Population Sciences, a Master of Science in Statistics from University of Delhi, and a Bachelor of Science in Statistics from Ranchi University, India. He loves music, yoga, watching laughter shows, reading or listening to ancient India spiritual books such as the Veda, the Ramayana and the Bhagawad Gita.
Roles
Goal 3. Ensure healthy lives and promote well-being for all at all ages
Goal 3. Ensure healthy lives and promote well-being for all at all ages